The Woodlands Villager - Posted: Tuesday, July 14, 2009
...a new way to get around The Woodlands shopping areas. (Sara) Bissig is the owner of Go Green Eco Taxi, an electric bus that carries 11 passengers around Market Street, the Waterway and The Woodlands Mall area. Service started July 1, 2009. (full article)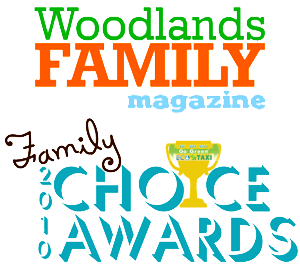 'Woodlands Family Magazine' December-2009:
This big, bright green taxi is a kid magnet and a convenience to families. If you haven't seen the Go Green Eco Taxi around the Town Center, keep you eyes peeled. This local family owned company provides a fun, new option for local transportation in our community. It is convenient and affordable to get around for shopping, dining, movies, and concerts. The vehicles
are eco friendly, all electric cars, which
are street legal...
Click here for the full article
'A new way to roll in Town Center'
Ladies and lads who lunch can now look to the Go Green Eco Taxi for a lift.
Grogan's Mill resident Sara Bissig is the proud owner of The Woodlands first ever electric taxi.
Business was brisk this summer, but since this is an open air vehicle, hours were limited to the evenings when it's a little cooler outside. Now that fall is nearly here, Bissig is ready to shuttle folks from their office to their restaurant of choice within The Woodlands.
"It's an all-electric car, the breezes are blowing, and people are loving it... it has a fun factor, like a vacation feel to it," Bissig said. "The car is more than a super-sized golf cart... this baby is road ready."
That means it has the same things as gas-guzzling cars do: a shatterproof windshield, blinkers, headlights and seatbelts. You've got to have a driver's license to drive it, and it's got to be registered and sporting license plates.
The vehicle gets approximately 60 miles per $1 of electricity and is permitted on roads where the speed limit is up to 45 miles per hour. Bissig likes to hold steady at approximately 25 miles per hour.
"Obviously you can't take this thing to downtown Houston," Bissig said.
The fare is $3. To book a ride, call 281-639-9724.
read article
:
Our latest video on